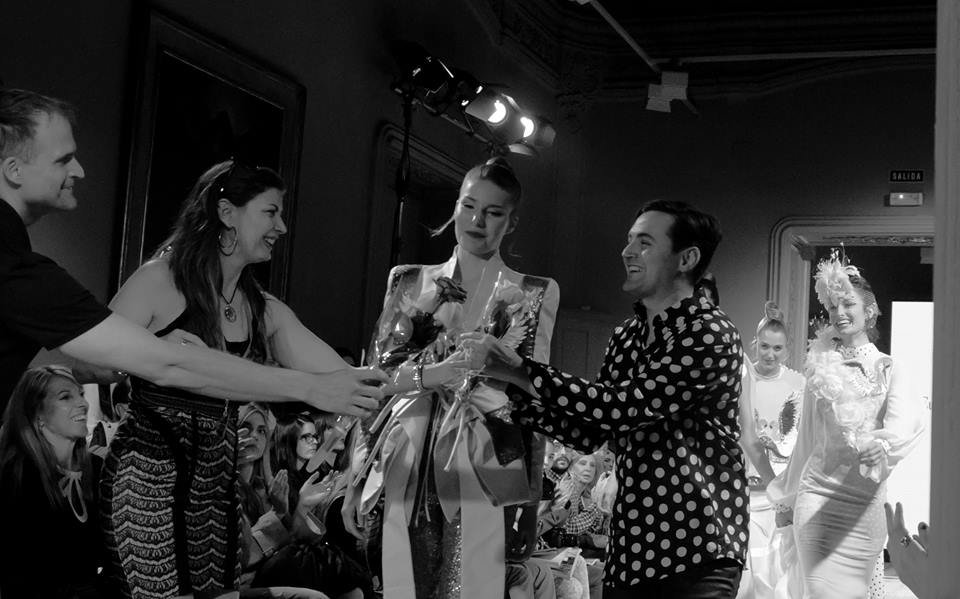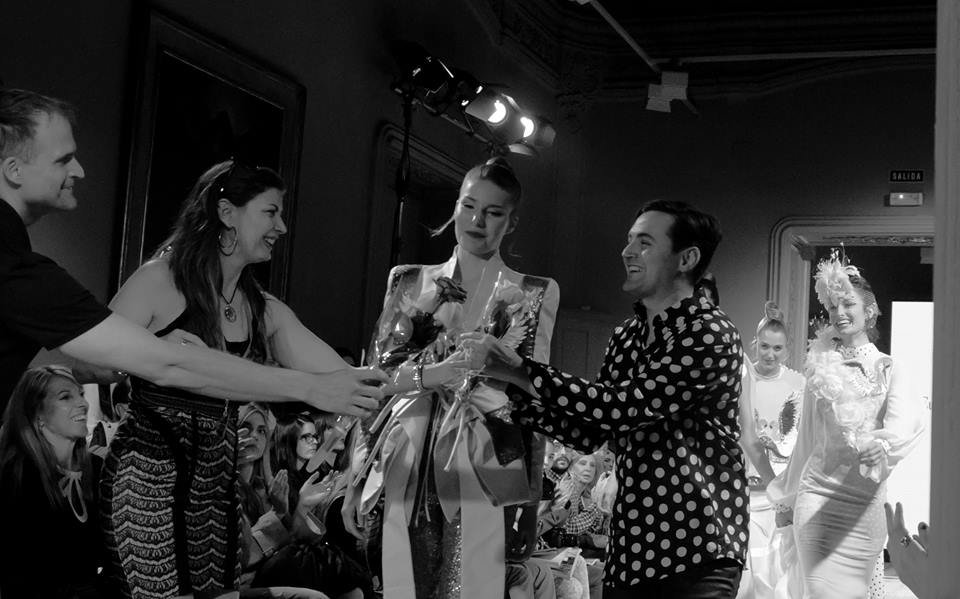 Today I am delighted to be able to interview one of those designers that you should not lose sight of: Eugenio Loarce. With more than 10 years in the world of fashion, the manchego designer Eugenio Loarce bets on the design and production Made in Spain handmade, with extremely careful sewing creations, where the lace and trimmings have special prominence, drawing on the arts and Great Kitsch divas.
The barroc garments that persist in the past are her hallmark, being present in all his collections, which are oriented to a woman, with personality, humor and culture, someone who takes the reins of her own life. Eugenio Loarce is a man with a great talent, a great professional who puts passion in his work, with a natural sense of pursuing the beautiful.
"When and how did your start in the design?"
Since I was a small child I frequently do figures, and people who know me from that age always remind me in this way. Also in my house my mother and part of my family are dressmakers.
– How would you define your style?
I try to make unique pieces, available and with a strong personal character. Garments that can be put all the world of any age, condition, etc ….
– what inspires you to create your collections?
In almost everything that surrounds me: books, television, theater, art ..
I try to tell a story or someone through something that I see in any place and then it is a totally manual process: patronage, sewing, complements … If I did not want to tell anything the clothes themselves are already a sewing exercise itself, That we may be able to get to do in the brand and every season we try to improve our previous work or introduce something new.
"Do you have any muse?"
Specifically not, but I like people who are different for something and that accentuates their difference.
– How is the woman Eugenio Loarce?
With personality, humor and culture, someone who takes the reins of his own life. A woman who likes fashion and has no prejudices with her.
A woman who enjoys the clothes, not to use and throw and my clothes have a vintage air, that over time they can use it again with few arrangements the next generations
– The spring collection Summer 2017 "Rara Avis" presented at Alicante Fashion Week It was very shocking! Tell us a little more about it.
"RARA AVIS" is a Latin term that applies to a person or thing that is considered uncommon, or to have some characteristic that differentiates it from the others of the same species.
This was the name given to the great exhibition at the Metropolitan Museum of Art in New York in 2005 (Iris Apfel: rare avis). There you could see more than 80 costumes from the peculiar fashion collection of Iris Apfel. In this exhibition there were pieces by Dior, Dolce & Gabbana, Nina Ricci, Geoffrey Beene, Lanvin, etc.
Iris Apfel's fame came to 84 years after being the object of this great exhibition, but nevertheless her style broke molds long ago, when with her peculiar taste showed that the fashion was intuition and that to combine pieces of design with clothes Of the market was not only allowed, but was a way of triumphing ignoring stereotypes. She became an aesthetic reference.
This way of understanding fashion is reflected in this new collection. "RARA AVIS" walks with garments of different styles, eras and shapes that wander along with special accessories, giving a very special character to each look. All this makes the brand walk in a "seasonless" style, as more and more seasons are not so marked by weather, weather, countries …
One of the peculiarities of this collection is the multitude of prints used: tiger heads, squirrels, vichy paintings … As for the tonalities, sober colors like black, gold and beige are used in all their range, The colorful prints. There is a contrast of fabrics, we use both simple and very elaborate haute couture.
 "RARA AVIS" is a collection for all those women and men who mix freely and who are not afraid, rather daring to wear
– If with a dress you had to define the present moment how would you do it?
Special, I can not say more ….
– Is there a future project or plan that you would like to share with us?
Redefine my website for sale online, make a fashion film and continue working, which in the end is what I'm passionate about!
Thanks to Eugenio Loarce for giving me this interview and showing me his collections 🙂 I leave your web page: http://www.eugenioloarce.com/