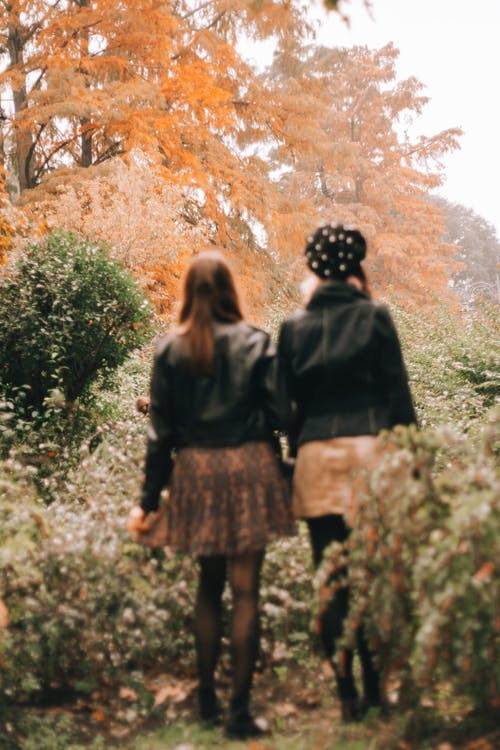 There are a lot of outfits that come back into fashion every time autumn rolls around. As such, you might forget a thing or two from your own wardrobe – it's easy to miss out when there's so much to choose from! And that's why this post is here; we want to help you ensure that your autumn wardrobe looks as good as you want it to, so here are some suggestions for adding a few more pieces to your lookbook.
Some Proper Autumnal Colours
If you're used to wearing only dark colours, or you prefer light and pastel colours, you're going to want to refine this colour palette for the autumn season ahead. After all, your autumn lookbook needs to have as many autumnal colours in it as possible, to make you really feel like you're ready for the season, especially when you're sipping on a pumpkin spice latte and wrapped up warm in the cool air!
So where should you start? Try your accessories first of all. Invest in a few pieces that are either gold or rose gold in colour, such as a gold nose stud to replace your usual silver or black piece you like to wear. After all, something softer (yet a bit edgier!) is always going to be a popular choice for the season where everything is dramatically changing around you.
Then think about the wardrobe basics. A soft red vest on top and an orange skirt, with a light yellow and/or beige blazer on top, is a great way to start building a casual outfit base. You can then add dark boots on the bottom and a long, knitted scarf on top to really seal the look. And this is great for wearing in weather that'll be cold in the morning but warm in the afternoon, and it'll be easy to buy more and more pieces of similar colours in bulk.
Something Cozy and Cute
The autumn is a time to be as cozy as possible, but still looking as cute as you really want to. It's why people like Halloween themed items so much; skeletons, pumpkins, ghosts, and witchy items are popular to dress up in all season long, even if October hasn't quite come round yet. So why not follow in these footsteps? Think about how you can wrap up warm, but also add in some cutesy items that are really fun to wear.
Earrings are always a great and easy item to invest in for this reason. You can get a lot of themed earrings, particularly from websites like Etsy, that feature items like little skulls, spider webs, pumpkin pie slices, and even little witch cauldrons. These will all look great when you want to add a bit more fun and freedom to your autumn looks, and they'll keep again for next year as well!
Items That Can Be Layered
Layering is an understated art. And when it comes to your autumn lookbook, knowing how to layer items correctly is a huge way to boost your style during the later months of the year. It can work in both casual and professional settings, and ensuring you've got a mixed bag of all these pieces to layer together can prevent you from having to take ages to put a simple outfit together when you've just gotten up and have 10 minutes to get ready!
A sweater vest, for example, is a standard piece of clothing for the autumn. Of course, you can buy combined pieces straight out of the shop, but you can also buy a slightly bigger shirt than you need, with a sweater vest on top that cinches you in while allowing the undershirt to really speak for itself.
You can also buy a poncho or two here, in pattern mixed colours, that'll look great when laid over the top of any block colour below. Easier to wear than a cardigan, if you want to keep the dark colours in your wardrobe, buy some ponchos that offsets them a little, such as a blue and white flannel mix.
So, do you feel like your autumn lookbook has been put together well? If not, you've got plenty of time to add a few more basics and accessories to it, and then start wearing some seasonally themed outfits you really love. Take your time in finding the items you like, and seeing as these pieces will be so versatile, you won't have to worry about overspending either!