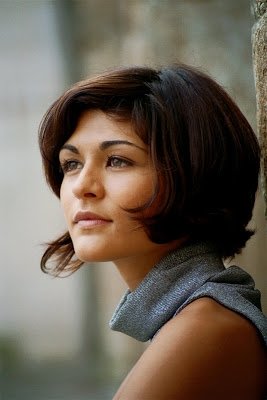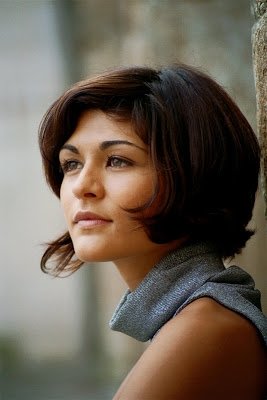 La diseñadora gallega María Barros consiguió su primer éxito con tan sólo 21 años, obteniendo el premio Moët&Chandon Young Fashion Award en colaboración con la Camera Nazionale della Moda Italiana, celebrado en septiembre del 2001 en Milán. Tras esta exitosa experiencia continuo su trayectoria laboral con Pupi Solari en Milán, para incorporarse más tarde en el equipo creativo de Roberto Cavalli en Florencia.
The Galician designer Maria Barros got his first hit with only 21 years, earning the prize Young Moët & Chandon Fashion Award in collaboration with the Camera Nazionale della Moda Italiana, held in September 2001 in Milan. After this successful continued her working experience with Pupi Solari in Milan, later to join the creative team of Roberto Cavalli in Florence.
En el año 2.009, la revista Capital publica el listado de los 100 jóvenes más prometedores de España, donde señala a la diseñadora como una de las personalidades más influyentes del país y primera dentro del ámbito del diseño.Concibiendo el diseño como un estudio multidisciplinar, realiza de forma paralela a sus creaciones de moda colaboraciones en otros campos del diseño.
In 2009, Capital magazine published the list of 100 most promising young people in Spain, where the designer was named as one of the most influential personalities in the country and first in the field of design.Conceiving the design as a multidisciplinary study, she did in parallel to her fashion creations collaborations in other fields of design.
Muestra de ello es la colección de mobiliario "Couture" para la firma Jacinto Usán, en la que sus conceptos de moda se fusionan para ser globales y entendidos bajo el pensamiento del interiorismo. Esta colección viste alguno de los espacios más emblemáticos y modernos de Europa.
Proof of this is the collection of furniture «Couture» for the brand Jacinto Usán, in which her concepts of fashion come together for being global and understood under the thought of the interior. This collection was in the some of the most emblematic and modern places in Europe.
Es una de las 15 finalistas al concurso de Vogue España Who's on Next?que premia al talento revelación del año 2013, con su colección «Musa Dormida».
She's one of 15 finalists for Vogue Spain contest Who's on Next? Talent that rewards the revelation talent of the year 2013, with her collection «Musa Dormida».
Ha presentado sus colecciones en la Pasarela Gaudí durante varias temporadas consecutivas. Gracias a la buena acogida recibida por parte de la prensa y público, junto con su visión internacional, comienza a presentar las colecciones de forma paralela a la pasarela Gaudi en la Semana de la Moda de Milán. Actualmente presenta sus colecciones en la Madrid Fashion Week donde comenzó a desfilar en febrero de 2009.
She has presented her collections at Pasarela Gaudí for several consecutive seasons. Thanks to the warm welcome received by the press and public, along with her international vision, she began to present collections in parallel to the Gaudi's catwalk in the Milán Fashion Week. Now she shows her collections at the Madrid Fashion Week where she began to present her brand in February 2009 .
1- ¿Cómo definirías el estilo de María Barros?
Creo que mi sello reside en los volúmenes creados a través del moulage. Si tengo que hablar de estilo lo definiría como femenino en siluetas y delicado en volúmenes y tejidos.
1 – How would you define the style of Maria Barros?
I think my seal resides on volumes created through moulage. If I have to talk about style, i would define it as feminine silhouettes and delicate volumes and fabrics.
2-¿ Qué o quién es su mayor fuente de inspiración?
Todo puede llegar a ser una fuente de inspiración. Todo depende de lo receptiva que te encuentres en ese momento para poder identificarla y trabajar con ello.
2 – What or who is your biggest inspiration?
Everything can become a source of inspiration. It all depends on how receptive you are at the moment to identify it and work with it.
3-Has trabajado junto a grandes diseñadores como Roberto Cavalli o Modesto Lomba, ¿cómo fue la experiencia?
Con cada uno de ellos aprendí cosas totalmente diferentes. En Roberto Cavalli pude vivir en primera persona cómo funciona una casa de moda internacional, cómo se diseñan las colecciones, cómo son los preparativos de un desfile, la venta, comunicación y organización de eventos. Durante el tiempo que he estado con él tuve la oportunidad de ver diferentes procesos, lo que me ha ayudado mucho a crear una visión global de la moda. Con Modesto Lomba fue mi primera experiencia con un diseñador. Todo era una novedad y yo todavía estaba en mi segundo año de carrera. Hoy soy más consciente de todo lo que pude ver y aprender en ese momento.
3-You have worked with designers such as Roberto Cavalli and Modesto Lomba, how was the experience?
With each of them I learned different things. In Roberto Cavalli , i could experience firsthand how works an international fashion house, how designs the collections, how are the preparations for a parade, selling, communication and event management. During the time I've been with him I had the opportunity to see different processes, which helped me to create a global vision of fashion. With Modesto Lomba was my first experience with a designer. Everything was new and I was still in my second year of college. Today I am more aware of everything I could see and learn at the time.
4- ¿Qué opinas de la moda en Italia?
En Italia entienden la moda como parte de su cultura y la viven y disfrutan en su día a día. Sin embargo, para mí la clave que los diferencia del resto está en que nunca se olvidan de que a su vez, la moda es un negocio.
4 – What do you think of fashion in Italy?
In Italy understand fashion as part of their culture and live and enjoy in your day to day. But for me the key that differs from the rest is that they never forget that at the same time, fashion is a business.
5-¿Algún artista o persona que haya influído en tu trabajo?
No hay ningún artista en concreto o persona pública que haya influenciado de manera directa y clara en mi trabajo, pero sí creo en la influencia que ejercen las personas que viven conmigo mi día a día. Si una persona puede llegar a tener influencia sobre mi propia persona, de forma indirecta también está influyendo en mi trabajo.
5 – Any artist or person who has influenced your work?
There is no particular artist or public figure who has influenced directly and clearly in my work, but I believe in the influence of the people who is living with me my day to day . If a person can have influence on my own person, is also indirectly influencing my work.
6-Has sido nominada para el prestigioso International Woolmark Prize, concurso en el que han ganado diseñadores como Yves Saint Laurent y Karl Lagerfeld.¿Qué se siente ante esa nominación?
Primero una gran sorpresa, ya que es un concurso en el que te tienen que nominar, no puedes presentar tu candidatura, por lo que nunca te llegas a plantear que te van a nominar a ti. De algún modo sientes que reconocen tu trayectoria, y eso es una inyección muy fuerte de energía para continuar con más fuerza.
6-You have been nominated for the prestigious International Wool
mark Prize, competition in which designers as Yves Saint Laurent and Karl Lagerfeld have gained. What do you feel about the nomination?
First a big surprise, as it is a contest in which they have to nominate you, you can 't submit your application, so you never think that they are going to nominate you. Somehow you feel that they recognize your career, and that's a very strong injection of energy to continue with more forcé.
7- Diseñaste colecciones cápsula para otras firmas, entre las que destaca el diseño de la primera colección textil para la firma de complementos Hazel: Hazel by Maria Barros. ¿Tienes alguna pieza en mente que te gustaría diseñar?
Muchísimas!! Me encantaría poder crear una línea de complementos, especialmente gafas de sol y zapatos. Fuera de mi campo, en concreto en el interiorismo, me gustaría mucho poder tener la oportunidad de diseñar una mecedora que tengo en mente desde hace años. Es una pieza que hoy en día es muy difícil de encontrar y que yo adoro.
7 – You designed capsule collections for other brands, among which the design of the first textile collection accessories for the brand Hazel: Hazel by Maria Barros. What piece do you like to design?
So much! I would love to create a line of accessories, especially sunglasses and shoes. Get out of my field, particularly in the interior, I would love to have the opportunity to design a rocking chair that I have in mind for years. It's a piece that is now very hard to find and that I adore.
8-En el año 2012, entras a formar parte de la Asociación de Creadores de Moda de España (ACME) ¿que supone a nivel profesional el entrar formar parte de un grupo de creadores de tanto prestigio ?
Considero que a través de la Asociación se crea una unión y una fuerza que de manera individual sería muy difícil de conseguir. Su filosofía es trabajar por y para la Moda de España. Estoy orgullosa de poder formar parte de ella.
8-In 2012, you become part of the Association of Fashion Designers of Spain (ACME). What does it mean for you to join to this group of prestigious creators?
I believe that through the Association creates a bond and a force that individually would be very difficult to achieve. Its philosophy is to work for Fashion in Spain. I am proud to be part of it.
9- ¿ Qué se siente minutos antes de comenzar el desfile?
Nervios! Yo me pongo tan nerviosa que creo que los propios nervios me impiden tener otro tipo de sentimientos.
9 – How does it feel minutes before the parade?
Nerves! I get so nervous that I think the nerves themselves won't let me to have another feelings.
10- ¿Nos confiesas un momento sublime vivido en el mundo de la moda?
Haber estado en la organización y preparación de la exposición retrospectiva del trabajo de Roberto Cavalli, dirigida por Anna dello Russo en el Palazzo Pitti de Florencia.
10 – Confess a sublime moment lived in the Fashion World?
I was in the organization and preparation of the retrospective exhibition Roberto Cavalli's work, directed by Anna dello Russo at Palazzo Pitti Florence.
11- La colección para esta Primavera Verano 2013 se llama Musa Dormida y está inspirada en la escultura de Constantin Brancusi , háblanos un poco de ella¿ Qué buscas transmitir con esta colección?
La colección de esta Primavera/Verano sigue las formas que trabajaba el escultor en sus piezas, respetando la pureza de sus líneas, así como las tonalidades de los materiales con los que éste trabajaba: mármol, bronce, piedra y madera. Es una colección conceptual en la que quería transmitir especialmente la principal obsesión del escultor, que era reunir todas las formas en una, esa búsqueda de la esencia interior de las cosas, de su naturaleza perenne. Me parecía un concepto muy interesante para trasladar al patronaje.
11 – The Spring Summer collection for 2013 is called Musa Dormida and it's inspired by the sculpture of Constantin Brancusi, tell us a little about it What do you want to convey with this collection?
The collection of this Spring / Summer is the forms the sculptor working on his pieces, respecting the purity of its lines and as well as the hues materials with which he worked marble, bronze, wood and stone. It is a conceptual collection that I wanted to convey especially the main obsession of the sculptor, who was gathering all the forms in one, the search for the inner essence of things, of its perennial nature. It seemed a very interesting concept to transfer to the pattern
12-¿ Dónde podemos adquirir tus prendas?
En tiendas multimarca o directamente en nuestro Atelier.
12 – Where can we buy your clothes?
In multi-brand stores or directly from our Atelier.
13- Además de tus colecciones ¿actualmente tienes en mente algún proyecto?.
Ahora mismo estoy trabajando en el diseño de una línea de mantas, planteadas desde la óptica de mis colecciones de moda. Mi experiencia en las colaboraciones que he realizado en el mundo del interiorismo han sido muy buenas. Tenía muchas ganas de diseñar de nuevo piezas de interiorismo.
13- Besides your collection Do you have any project in mind?
I am currently working on designing a line of blankets, created from the perspective of my fashion collections. My experience in collaborations that I have made in the world of interior have been very good. I really wanted to redesign interior parts.
14-Imprescindible en tu armario.
Un buen vestido.
14-A must have in your wardrobe.
A good dress.
15- Una mujer no debes salir sin…
Sentirse ella misma con las prendas que lleva.
16. Por último ¿ un sueño por cumplir?
Me resulta muy complicado decir sólo un sueño por cumplir. Creo que me quedan todavía todos!
16. Finally, A dream to do?
I find it very hard to say just a dream to fulfill. I think I have still a lot !
Entrevista realizada para Van Der Love Magazine / Interview for Van Der Love Magazine :
http://www.vanderlove.com/maria-barros-interview/
15 – A woman should not go out without …
Feeling herself with the clothes she wears.